Welk type iPhone heb ik?
Elke jaar komt er weer een nieuw model iPhone uit. Zo is er inmiddels een hele reeks iPhones met allemaal hun eigen type-aanduidingen en specificaties. Logisch dat je jezelf dan soms de vraag stelt: welke iPhone heb ik eigenlijk? Om precies te weten te komen welke telefoon je nu in je hand hebt, geven we je een tweetal mogelijkheden om te achterhalen welke versie van Apple's smartphone je gebruikt. Wel zo handig als je bijvoorbeeld een iPhone-hoesje of andere accessoires wilt bestellen.
Zo achterhaal je welk iPhone model je hebt
Het modelnummer van je iPhone kun je terugzien in de instellingen van je iPhone. Volg daarvoor de volgende stappen:
- Open 'Instellingen' of 'Settings'
- Open het scherm 'Algemeen' of 'General'
- Klik op de bovenste optie 'Info' of 'About'
- Als je naar beneden scrolt zie je 'Model' staan met hierachter een nummer waar een M voor staat
- Klik op dit nummer en het zal veranderen in een modelnummer dat begint met een A.
Zoals 'iPhone model A1865'. Dit nummer is de modelaanduiding van je iPhone. Zoek deze vervolgens op in de tabel hieronder. Je ziet dan snel welke iPhone je hebt.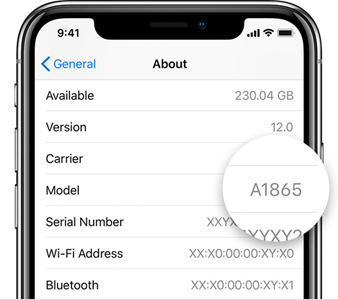 Hieronder vind je een overzicht van de verschillende iPhone modellen die Apple heeft gemaakt en aansluitend ook passende iPhone hoesjes en cases die geschikt zijn voor jouw iPhone.
iPhone modellen
Modelnummer
iPhone model
Bijpassende hoesjes
iPhone SE 2022

iPhone SE 2022 hoesjes

A2633
iPhone 13

iPhone 13 hoesjes

A2628
iPhone 13 Pro

iPhone 13 Pro hoesjes

A2643
iPhone 13 Pro Max

iPhone 13 Pro Max hoesjes

A2638
iPhone 13 mini

iPhone 13 mini hoesjes

A2411
iPhone 12 Pro Max

iPhone 12 Pro Max hoesjes

A2407
iPhone 12 Pro

iPhone 12 Pro hoesjes

A2403
iPhone 12

iPhone 12 hoesjes

A2399
iPhone 12 mini

iPhone 12 mini hoesjes

A2996
iPhone SE 2020

iPhone SE 2020 hoesjes

A2221
iPhone 11

iPhone 11 hoesjes

A2215
iPhone 11 Pro

iPhone 11 Pro hoesjes

A2218
iPhone 11 Pro Max

iPhone 11 Pro Max hoesjes

A1920, A2097
iPhone XS
iPhone XS hoesjes
A1921, A2101
iPhone XS Max
iPhone XS Max hoesjes
A1984, A2105
iPhone XR
iPhone XR hoesjes
A1865, A1901
iPhone X
iPhone X hoesjes
A1863, A1905
iPhone 8
iPhone 8 hoesjes
A1864, A1897
iPhone 8 Plus
iPhone 8 Plus hoesjes
A1660, A1778
iPhone 7
iPhone 7 hoesjes
A1661, A1784
iPhone 7 Plus
iPhone 7 Plus hoesjes
A1633, A1688, A1700
iPhone 6S
iPhone 6S hoesjes
A1634, A1687, A1699
iPhone 6S Plus
iPhone 6S Plus hoesjes
A1549, A1586, A1589
iPhone 6
iPhone 6 hoesjes
A1723, A1662, A1724
iPhone SE
iPhone SE hoesjes
A1453, A1457, A1518
A1530, A1533
iPhone 5S
iPhone 5S hoesjes
iPhone en iPad modellen herkennen.
Als je benieuwd welk
type iPad
je hebt om bijvoorbeeld een nieuwe cover te kunnen bestellen, dan helpen we je daar graag mee. Klik op de link en we leggen je haarfijn en eenvoudig uit hoe je het typenummer kunt achterhalen.